Haw River Farmhouse Ales Announces Reopening Plans – mybeerbuzz.com
we're back open (sorta) & have even more new beer
to buy online!
Reserving our Entire Tasting Room By The Hour, as well as Continuing Pickups & Local Deliveries, UPS Deliveries & More!
As the situation with Covid-19 evolves and more breweries are opening their doors again, we're continuing to listen to our customers and to what the state & local authorities have been discussing for "reopening" the economy. While keeping an ear to the ground, we're working hard to provide services in the safest, most reliable ways we can, as we all work together to navigate these new waters. Whether you're getting out on weekends to enjoy a river walk here in Saxapahaw before stopping by our place for a pickup, or sticking around home a while longer, we've got you all set with cold beer & more to help make things a bit more pleasant. Everything that's currently in stock is available on our Online Store at bit.ly/HawRiverStore 24 hours a day, so let us know what we can prep for pickup or bring your way this week!
Note that we've got some great new beer releases, brand new merchandise and a few upcoming events (in both the real world and the virtual) to keep everyone posted on as we cruise through the summer, so stay tuned, and thanks, as always, for your support!
— Dawnya, Ben & the Haw River crew
A Special New Beer & Fresh Batches Available This Weekend!
We're working hard to keep cold cans in your hands, now that the weather has decided to ratchet things up a few dozen degrees, and we're really excited about a few new beers in cans & bottles, all of which are available for pre-order right now on our web store at bit.ly/HawRiverStore!
First & foremost, we're proud to have a very special beer on deck that we're calling We Must Do Better, a really lovely double dry-hopped saison, for which we're donating proceeds to Durham, NC's Southern Coalition for Social Justice. We're expecting this one to go pretty fast, so if you're interested, we've got this one available for pre-order by the can, 4-pack or case, and we're setting up a special option specifically for this beer to have this one shipped in half cases via UPS to any address in North Carolina.
We've also got a really unique one headed into cans later this week that's previously only been available as a small batch on draught at our place in Saxapahaw: Our Golden Milk Stout is one-of-a-kind, brewed with real toasted coconut, fresh local turmeric, baby ginger, cracked cinnamon, black peppercorn, green cardamom and fresh roasted coffee beans from our buds at Joe Van Gogh in Hillsborough!
And last but not least, we've just bottled a brand new beer we're excited about that's now available for delivery: The Great Pause, a beautiful, layered, French Oak foeder-aged saison with a soft blanket of brettanomyces funk on the nose and running throughout. This is a special one, folks, so don't miss out before it's gone.
Place your order for these Haw River cans & bottles!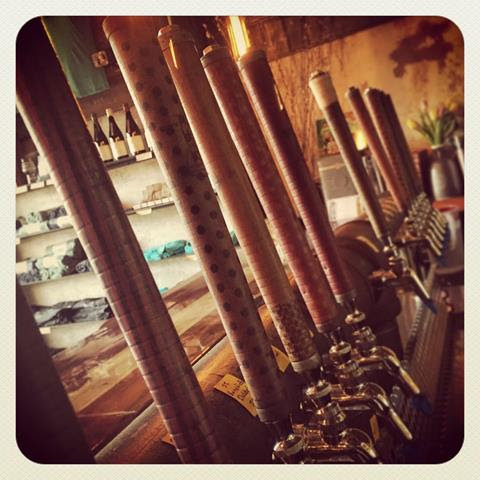 Re-Opening Plans: Rent our Entire Tasting Room by the Hour!
Last weekend, we started our own "Phase 2" re-opening by allowing our customers to rent out our entire retail space by the hour, and it's been a hit! As you probably have noticed, we don't have a ton of room at our place and we're not quite ready to throw open the doors just yet, so our plan is a little different than some of our friends in the industry.
We're currently taking reservations online for one- or two-hour blocks on Fridays, Saturdays & Sundays from noon to 7pm, so reserve your spot now (for you and up to 3 adults, plus children). Both inside the bar area and the patio seating area outside is all yours—for just yourself, or for your family or group of friends. We've also thrown in a few perks, like getting 5% off beer to-go & merch before you leave, access to your own private bathroom, free wifi, complimentary snacks, options for draught & flights (general public can only fill growlers with tap offerings at the moment) and most importantly, no one else is allowed in while you're here, so you can relax! We're allowing bookings up to four weeks in advance, so reserve your slot now and we'll see you soon!
Upcoming Batches & New Merchandise!
Yes, we're still brewing beer! We're excited about a few things we have on deck that we'll let everyone know about soon, so follow us on Facebook and Instagram to stay in the loop!
• A brand new Golden Milk Stout (a bright, golden-hued stout brewed with fresh turmeric, toasted coconut, ginger root, coffee beans and eastern spices)
• Javaberry Cream Stout is coming back this summer, and we're really psyched about its return! We weren't able to brew this blueberry-infused coffee cream stout last summer, so we're doubling up this year and putting it in 16oz cans in July! Stay tuned!
• The return of The Scribbler's Son Black Lager, fresh Newlin's Original Oatmeal Pale, Javaberry Cream Stout, Cultural Divide: Farmstand Pickle, 2020 Sun Hands, and a couple of surprises along the way!
• All kinds of new merchandise, including new tees, hooded sweatshirts, glassware, bandanas, jigsaw puzzles and more! Stay tuned and we'll keep you posted!
In the meantime, make sure to snag fresh cans, bottles & growlers both for pickup at our tasting room, local delivery to your house, or shipped across NC to your doorstep via UPS and keep an eye on our Facebook and Instagram channels for release dates & more Haw River news!